5 Spring & Summer Crappie Tips (& Why YOU Should Be Using Plastics)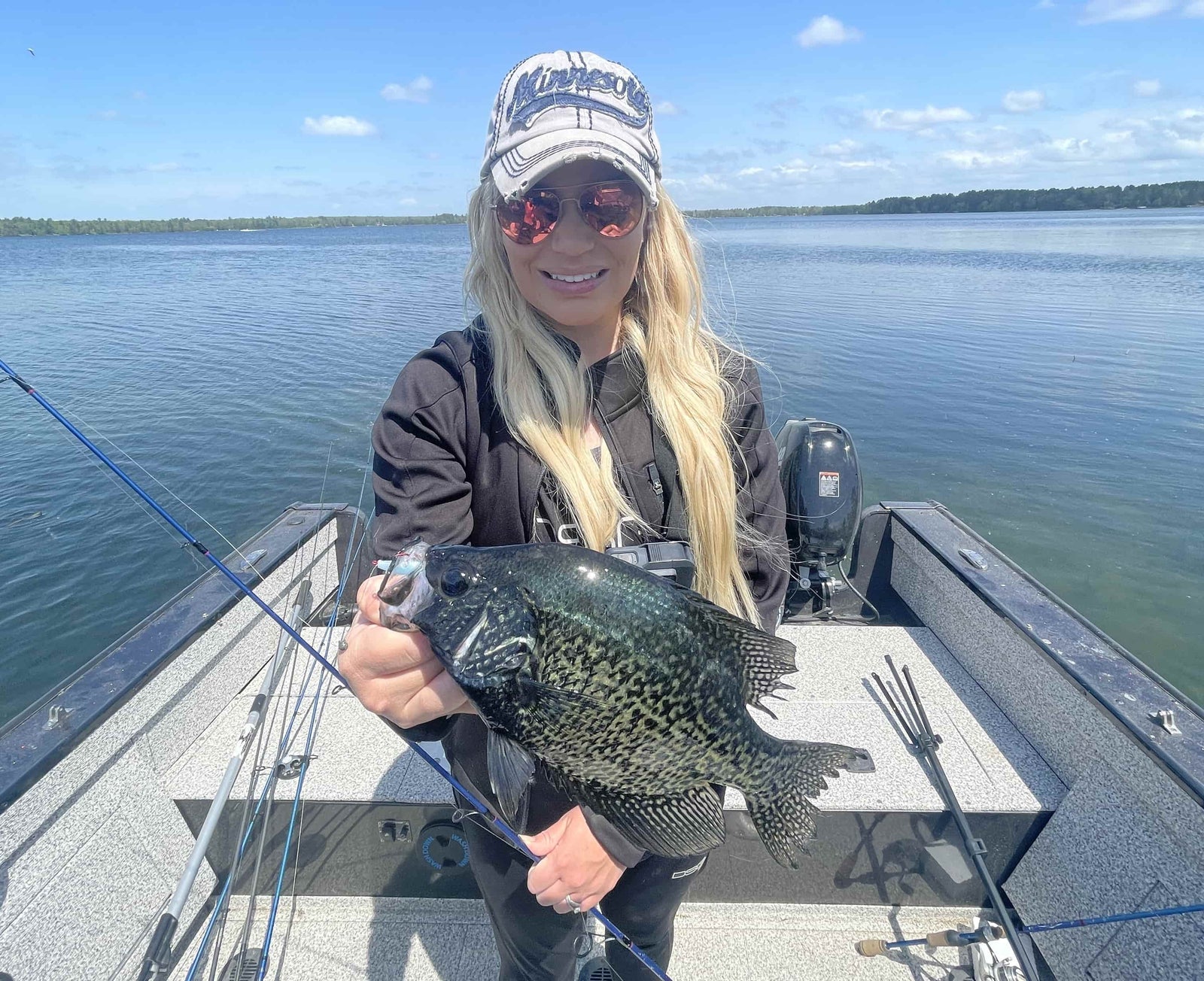 The crappies are finally donning their spring tuxedos in the northern states, while many other areas of the country are experiencing that hot early summer bite in the weed lines. With warmer water and higher metabolisms, this means both seasons are a perfect time to trade in that live bait for some plastics. Whether you are bobber fishing or slow trolling jigs, this time of year is PERFECT to dig out your panfish plastics to start turning over more fish this spring. Below we discuss 5 tips to help you find more fish and why you should be using plastics to target them this season.
Why You NEED to Choose Plastics For Spring Crappies
Before we discuss these 5 tips, let's first chat about why you should be using them this season.
Live bait will always have its place, and every angler knows that. However, what many anglers DON'T KNOW is just how beneficial plastics are. Not only are they more versatile, but many of their characteristics mean you'll be out fishing your live bait buddies in no time at all. Reasons to switch over to plastics include:
Higher Turnover Rate: Live bait often means a lot of time wasted on rehooking bait. This means less time in the water and less time fishing… therefore less fish (and in this case crappie) caught. With plastics, you can catch 100 fish and still not need to rebait. This means more time spent in the water and more time catching fish.
Better Durability: Whether casting bobbers in the brush or trolling spinners through weed lines, plastics will outperform live bait simply because they are tougher. There are so many times when anglers are fishing with no bait at all, simply because their minnow or worm fell off in cast, reel, or was robbed. With plastics this isn't the case. That's why some anglers who are even insistent on plastics will spend their time
More Affordable: Bait is expensive, and it becomes REALLY expensive when you are constantly re-baiting due to weeded conditions and/or constant fish action. Plastics on the other hand cost less than a scoop of bait, and last 10X longer, not just catching you more fish but saving you money in the long run.
5 Tips for Finding and Catching Crappie
Be sure to combine our plastics with these 5 simple tips to find and help you catch more crappies this spring and early summer!
During the spring pattern find warmer water and use bobbers. Finding warmer water in the spring usually means finding shallow water. Look for shallow bays, shorelines, weed beds, and cattails along the banks.
As fish transition out of the spawn and into their summer patterns focus on covering weeds. A great way to do this is to slow troll spinners or use a simple snell setup through shallow weed beds where fish will be finding cover and hanging out. Be sure to throw one of our Bonita plastics on to assure you have a resilient bait with real-life action, allowing you to entice those fish without having worry about trolling a bare hook.
During either season, try casting into shallow cover - down trees, brush, and stumps. Spot lock or anchor up away from your target area and pitch out a bobber or underspin jig in the thick of it. Any of our plastics work great in both situations, allowing you to get to those toughest places without worrying about rebaiting.
Small jigs and baits are key. The movement of the Bonita Minnow resembles a small crappie minnow underwater and is a great option for targeting crappies this time of year, but just about any of our small panfish plastics will do. Pair it on a rigging line, bobber, or underspin jig and you'll likely find success either time of year.
Keep moving! If you don't have electronics to find the fish or aren't getting any bites, keep shifting your location to find active pods of fish. Sometimes even a small 10-foot move can make a huge difference.
Extra Soft Plastics is Key for Crappie Fishing Success
When doing any of these techniques, the key is to use plastics with extra soft form. This allows each bait to have exceptional movement, mimicking real-life bait while keeping the durability and versatility of being plastic. Our baits are the softest on the market, allowing you to mimic numerous live bait situations while keeping your line in the water and turning over more fish.
We recommend the Bonita minnow (pictured to the left) and the Hellcat (check out this article for more tips) for open water crappies.
---