Spring Crappie Fishing with The Hellcat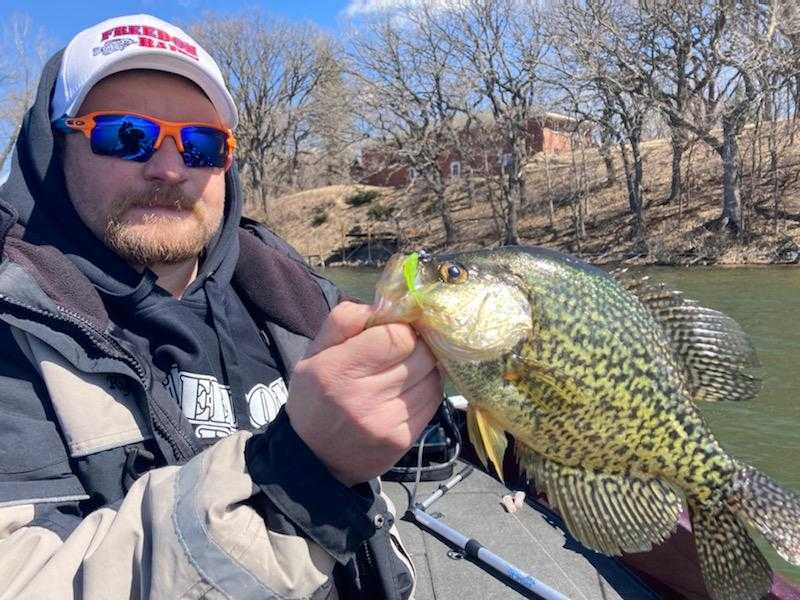 There's nothing quite like the spring crappie bite. They're easy to find in the shallows this time of year and the presentations are simple enough for any seasoned or beginner angler alike. Team member and U.S. Navy Veteran Rod Blau with Jigmup Guide Services of Okoboji, Iowa, has been getting his clients on some solid crappie action lately. We got out with him recently to get some insight on his best presentations.
Rod's ticket has been using a Freedom Baitz Hellcat on a 1/32 oz jig or 1/32 oz hair jig under a bobber. He set us up on the outside edge of a weedline in about 10-12 feet of water. Using 10ft ultra light rods to get the lines away from the boat, we dropped the plastic down to about 3 feet off of the bottom and would jig 3 to 4 times and pause. As the wind picked up, we let the wind do the work and move the bobber. Chartreuse with black flake was the hot color of the day, but orange, purple, and blue worked great as well. The crappies couldn't resist the Hellcat.
It's hard to beat live bait, but when you're re-baiting with every nibble and losing bait on every other cast, plastics might become the best tool in your tackle box if you haven't tried them already. The Hellcat has proven to be a staple for spring panfish, so be sure to give it a shot. We hope Rod's tips for using it help you put more fish in your live well this spring.
Jigemup still has openings to get you on the Iowa Great Lakes this season, so be sure to book today (712-346-8454) if you've been considering it. We couldn't recommend Rod's guiding services enough and we thank him for his service!
---