Best Plastics for Fall Panfish Patterns (Northern Edition)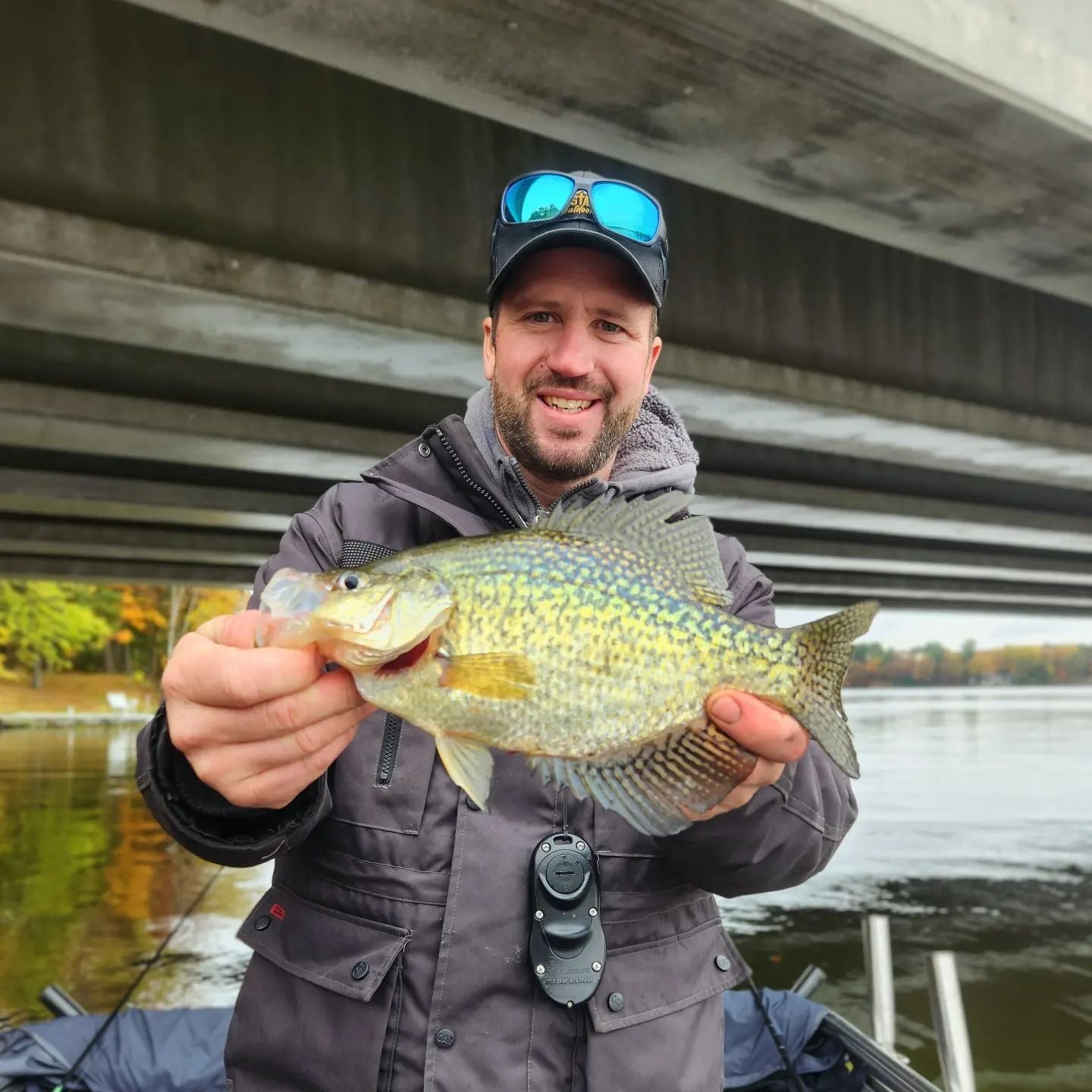 As the days grow shorter and the air turns crisp, boats get packed away for hunting season and water sports taper off while some of the best fishing is about to begin. Fall isn't just a time for colorful foliage and hunting though; it's also a prime time to catch panfish like crappie, bluegill, and perch. Not to mention, less boats mean less  pressure, making fall the primetime to hit the water. Understanding panfish behavior during this season can greatly enhance your chances of a successful day on the water.
The Feeding Frenzy Begins
One of the most significant changes in panfish behavior during the fall is their increased feeding activity. As water temperatures gradually drop, panfish become more voracious feeders in preparation for the approaching winter months. Until it gets really cold, they'll stay in a feeding frenzy throughout most of the fall to build up their energy reserves.
Migratory Movements
In the north, patterns change rapidly. Surface temps will go from 70's and 80's to the 40's, causing the lake to turnover in the process. As the water conditions shift, so do the fish. They often move to different areas of the water searching for food and steady water. Early in the season, you might still find them in shallow weeds where they were feeding all summer or transitioning between those areas and deeper basins. As temps dip into the 50's and colder, you'll find them out deeper and deeper following prey and more stable temperatures. Identifying these transition zones between where you find them in the summer and winter can be the key to hooking into more panfish. Having the right panfish baits to target these fish are key in finding success this time of year. 
Daily Patterns Change
You can target panfish in the weeds all summer long and find a good bite anytime of the day. In the fall, panfish begins to transition to their winter patterns and it shifts to more of a lowlight morning/evening bite. If you want to make the most out of your time, put your efforts into those lowlight periods to find more active fish.
Pictured is our popular Bonita minnow.
Finding the Perfect Fall Panfish Plastics 
Match the Food
Matching your lures and baits to the behavior of panfish in the fall is crucial. Consider using lures that mimic the fall prey species, such as small minnow imitations like our Bonita minnow or other finesse soft plastics in natural colors like our Hellcat, Frogman, or Apache. Panfish might be in a feeding mode in the fall, but switching to lighter, finesse tactics similar to those you use on the ice can help you hook into more fish as these fish slow down in response to cooling temperatures. 
Downsize Panfish Plastics in the Fall
Panfish might be in a feeding mode in the fall, but switching to lighter, finesse tactics similar to those you use on the ice can help you hook into more fish as these fish slow down in response to cooling temperatures. At Freedom Baitz, we understand the need to downsize in the north.  We make 1" plastics that shine this time of year. Love the Hornet all summer long? To turnover more fish during this finesse time, downsize to our 1" version. We have a variety of sizes to make sure we have the highest success rates during all times of the year. 
As it gets colder and colder, breaking out the ice rods can even be the ticket to getting more finesse baits down to increasingly finicky panfish.
Pictured is our popular Hornet bait. 
Cooler Temps Mean Adjusting Tactics
As panfish behaviors slow down and fish transition out deeper, midsummer tactics like pulling spinners and aggressively pitching jigs become less and less effective. When water temperatures tank, the goal becomes letting your bait slowly fall in front of schools of fish. Pitching or vertical jigging light tackle is the best way to do this. Breaking out the tungsten ice jigs can help you can down to deeper panfish faster, but this is a great time to use lead for a smooth, gentle fall. Paired with some of our 1" plastic line, you can expect incredible fishing now through ice. 
Fall panfishing offers anglers a chance to soak in the beauty of autumn landscapes with the added peace of less activity on the water. As you venture out for fall panfishing, remember that understanding panfish behavior during this season is your ticket to a rewarding day on the water. With the right knowledge and tactics, you can make the most of this prime fishing season and reel in your share of quality panfish.
Photos: Pro Staff Team Member Merle Brubacker, Kyle Boike, and Tyler Trampe of Sportsman's Journal TV
---