'21/'22 Tournament Summary from Pro Staffers Ben and Colby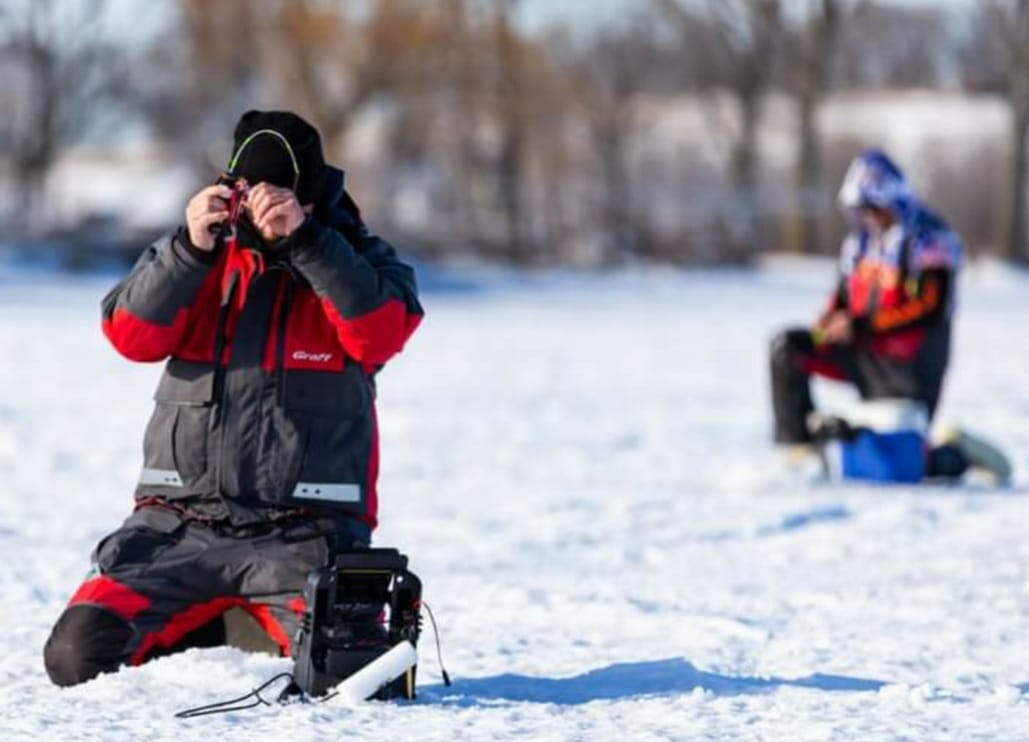 Official Freedom Baitz pro staff team members Ben Lutterman and Colby Kraninger had quite the '21/'22 tournament season! They had their share of ups and downs fishing with both the Ultimate Panfish League (UPL) and the North American Ice Fishing Circuit (NAIFC). We are proud of their accomplishments, and wanted to share their season summary below.
"Our '22 season was a season of ups and downs featuring three 1st place finishes between the Ultimate Panfish League (UPL) and the North American Ice Fishing Circuit (NAIFC). We began our season at Naytawash, MN fishing the NAIFC Championship. We had a strong showing on day 1, fishing Island Lake, finishing in second place. Day 2 on South Twin we forgot to show up falling far back in the pack. We followed up this lackluster performance [in the NAIFC] with a 4th place finish on Green Lake for the UPL weighing our first bag to surpass 13lbs. 
Our next tournament brought us home to West Lake Okoboji fishing the NAIFC. We were able to capitalize there and put up our first win of the season. From there we went and fished the UPL on Lake Minnetonka. We struggled with this lake's immense weed flats and thousands of acres of basin. We finished 13th place, our lowest UPL finish in 3 seasons. We next went to fishing the MN State Panfish Championship put on by Frankie's Live Bait & Marine. In this tourney a few missteps cost us big crappies we had caught pre fishing. We believed following this tournament we had fished too aggressively. We will improve there next season.
We finished off our season with our two remaining UPL tournaments on Shields Lake near Faribault, MN and Clearwater Lake near Annandale, MN. We were blessed to win both of these tournaments against stout competition and capture the UPL [Team of the Year title] for the 2nd consecutive year. 2022 was a great learning season for us. We were able to identify mistakes and make the necessary adjustments for our next tourneys. We anxiously await carrying that forward into the 2023 season. We hope that throughout the season we were able to help those we competed against because we know that those around us definitely pushed us to be better.
First and foremost, we would like to thank our wife/significant others, Jessa Lutterman and Brianna Shriver, for manning the forts while we're gone chasing these pies. We would like to thank Mike Howe for his directing of the NAIFC and Matt Johnson for the work he puts into the UPL. Tom Dobbins needs a shout out as well for the photography he provides during the tourneys. His ability to capture all the fine moments of the league are part of what really makes it special! 
275 days until the NAIFC championship but who's counting?" ~ Ben Lutterman 
These guys put a lot of time and hard work in over the '21/'22 season and it really shows. They deserve a big round of applause. We couldn't be prouder to have them on the Freedom Baitz team! Great work Ben and Colby, we're looking forward to seeing if you just might be the first-ever three-time winner of the UPL Team of the Year title next season!
---